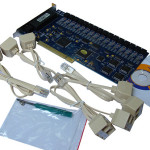 Echipament de inregistrare a convorbirilor pe 16 canale 616u
Compression times:1/2/4
Frequency:300~3400HZ±3dB
Data rate: 16 Kbps:32Kbps.64kbps/1s.
Main call number: FSKD,TMF.
Voice file:WAV,TS2,TS4.
Caracteristici
Phone Features
On some special occasion, it is very necessary to record the phone call content, Therefore, it is very important to install a good Telephone Recording System. A good Phone Recording System must record correct, high quality call content, which is easy to query. This system have 2 lines ...
Detalii Produs →