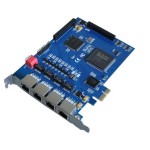 TE420E Asterisk E1 card
The TE420E PCI Express card provides termination of up to 120 channels of voice or data across two E1, T1, or J1 interfaces in a PCIe x1 form factor. Selectable on a per-port or per-card basis, the SINOV-TE420E allows E1 and T1 circuits to be mixed with full channel synchronization. Supporting PCIe x1, the SINOV-TE420E may be used in any available PCIe 1.0 compliant slot – 1x, x4, x8, and x16 without considerations for voltage selection or lane size.
All function is same to DIGIUM TE420 and TE220B
TE420E Digital PCI Card Overview:
The TE420E to be fully compatible and integrated with Asterisk Business Edition, AsteriskNOW, and open source Asterisk.
The TE420E supports industry standard telephony protocols including North American and European Primary Rate signalling as well as standard Robbed Bit, Channel Associated Signalling in addition to standard PPP, HDLC, and Frame Relay data modes.
TE420E,The 4 port E1/T1/J1 card supports E1, T1 and J1 circuits and it is selectable on a per-card or per-port basis. This feature enables signaling translation between E1 and T1 equipment and allows inexpensive T1 channel banks to connect with E1 circuits.
With the improved I/O speed, the card reduces CPU usage and increases card density per server. The card is fully compatible with Asterisk softswitch. Also, the open source driver supports an API interface for custom application development.
The The 4 port E1/T1/J1 card supports industry standard telephony voice and data protocols, including Primary Rate ISDN (both North American – National/DMS and Standard EuroISDN), SS7 signalling, analog over digital such as E&M, E&M Wink, R2 CAS, FXS/FXO loopstart and other less known voice protocol families, PPP, Cisco, HDLC, and Frame
Relay data modes. Both line-side and trunk-side interfaces are supported, also included are advanced call features.
TE420 Features and Functions:
Quad T1/E1/J1/PRI
PCI Express Interface
NO ECHO CANCELLATION ONBOARD
Target applications:
High performance ISDN PC cards
ISDN PABX for PRI/PRA
VOIP gateways
Analog to digital signalisation converters
ISDN LAN routers for PRI
ISDN least cost routers for PRI
ISDN test equipment for PRI