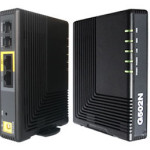 2 FXS Ports VoIP Phone G502N
Highlights:
SIP V2.0(RFC3261,3262,3263,3264)
2 10/100M RJ45 port(1 WAN, 1 LAN), 2 FXS for G502N
2 10/100M RJ45 ports(1 WAN)
Real time FAX over IP via T.38 and T.30 FAX with G.711
PAMS is above 4.0 with G.729 Codec
Field proven compatibility and stability
Auto-Provisioning-TFTP/HTTP/HTTPS
TR069, SNMP
G502N, which has two FXS port , one LAN port and one WAN port, is one of the most popular VoIP ATAs researched and produced by FlyingVoice.This product can not only provide two SIP lines for users to make calls, but also it is a wire-speed NAT router, make you enjoy easy network atmosphere. What's more, G502N support T.38 real time FAX and T.30 FAX with G.711.
G502N is a stand-alone device, which requires no PC to make Internet calls.This ATA guarantees clear and reliable voice quality on Internet, which is fully compatible with SIP industry standard and able to interoperate with many other SIP devices and software on the market.